---
Grimerica

Loose cannon podcast exploring the mysteries of the universe through conversations - on demand. With those who we deem interesting and often on the Fringe. We engage the listeners through their stories and suggestions and are supported by them solely.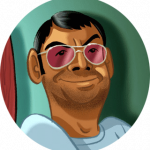 Darren
Grimes
HOST / ENGINEER / EDITOR
Darren Grimes spent his formative years raised by his mother in Northern Ontario Canada. Darren spent his early adulthood working in the steel industry, eventually landing him in Calgary Alberta. During this time Darren and friend Graham Dunlop started The Grimerica Podcast, an interview podcast about all the things they and their podcast community find interesting in the world, which helped lead him to many, many rabbit holes. Today Darren raises two young daughters in Alberta, Canada, working as a podcast host, author and entrepreneur. Darren spends a lot of time with his family and hunting and fishing.. His skeptical approach to the phenomena investigated on The Grimerica Show is tempered by his libertarian leanings, though this combination frequently leads him to crush the dreams of anyone looking for a high-rated synchronicity.

Working in high steel construction has given him the privilege of having a bird's-eye perspective on a variety of subject matter, both literally and figuratively. His avoidance of cameras has nothing to do with paranoia, taking his picture will, very literally, steal his soul. Someday, Darren hopes to bust a few caps in Sasquatch, while he has more than a few caps swirling around in his own head. He is not as clean and sober as Graham.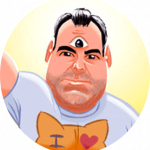 Graham
Dunlop
HOST / PRODUCER / WRITER
Graham's primary passions are podcasting, researching, and helping others. Obsessed with learning and self-improvement, Graham and Darren started The Grimerica Podcast in 2013. Their show has continued to grow into a sizable and loving community. Most recently he's pursued a spin-off podcast, Grimerica Outlawed, and has narrated various audiobooks.

A fast-paced life of corporate ladder climbing and competitive sports eventually took its toll, and Graham got completely clean and sober in 2008. Every year since then has been an escalating pursuit into the esoteric, occult, and spiritual arenas. Somewhere along the way he found time to travel around the world, become a Reiki master, get certified in Addiction Studies, facilitate Buddhist meditative recovery meetings, coach hockey, and lead numerous CE-5 expeditions (Close Encounters of the Fifth Kind). His journey has been one of achievement and compassion. Other professional management experiences includes Operations Manager at Premsteel Fabricators and several director positions with ACRO Aerospace: Director of Business Excellence, Director of Technical Services, and Director of Purchasing. However Graham's current focus is on raising his awareness, and enjoying living outside the city with the love of his life, Marija. In what spare time he has, he makes his mark in the imagination of others with the unparalleled skill of Dungeon Master Supreme.